Punter Andy Lee will be sticking around Arizona for the foreseeable future. The team announced today that they've signed the veteran to a two-year extension. The deal will kick in next season and last through the 2020 campaign.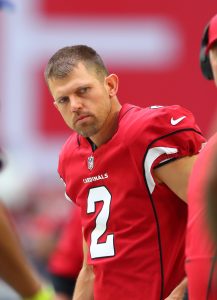 The 35-year-old joined the Cardinals last offseason and proceeded to play in all 16 games for his new organization. The three-time Pro Bowler ended up averaging 47.3-yards per punt, a franchise record. He also managed to land 29 punts inside the 20 yard line, his highest total since 2012. Predictably, Lee also served as the holder for field goals and extra points.
The 2004 sixth-round pick spent the first 11 seasons of his career with the 49ers before brief stints with the Browns and Panthers. His 1,135 career punts ranks 12th all-time, and he should easily secure the sixth spot on that list by the end of the 2018 season. His 52,666 punting yards already ranks in the top-five on the all-time list. The veteran has missed only seven regular season games during his career, with all of those coming during his stint with Carolina.
Photo courtesy of USA Today Sports Images.