Last night, Rashad Jennings was crowned the winner of this year's "Dancing With The Stars." The running back is still without an NFL team for 2017, but he has work to keep him busy in the meantime. Jennings will tour the country with DWTS, as Ian Rapoport of NFL.com tweets. However, he has an out in his contract in the event that he gets an NFL opportunity that he wants to pursue.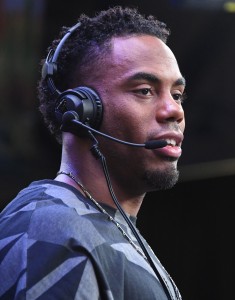 This year, Jennings became the latest active NFLer to participate in the show, joining notables such as Calvin Johnson, Antonio Brown, and Von Miller. He win also marks the fourth time that a professional football player has won the sought after disco ball trophy, joining Emmitt Smith, Hines Ward, and Donald Driver. Reportedly, teams weren't thrilled about his decision to dance on national television instead of focusing on football.
Jennings, 32, is coming off of an injury-riddled season in which he averaged just 3.3 yards per carry. He did, however, turn in a solid year in 2015 as he averaged 4.4 yards per carry and started in all 16 regular season games.
It remains to be seen how much interest he garners as a free agent this summer, particularly since his availability for workouts might be limited during the tour. At the same time, one has to wonder if Jennings could use his newfound stardom as a launching pad for a career in broadcasting. After all, former Giant Michael Strahan made that transition seamlessly and he now makes even more money than he did on the field.
Photo courtesy of USA Today Sports Images.