Rashad Jennings had a strong showing on "Dancing With The Stars" Monday night, or at least that's what this recap from USA Today tells us. The Giants free agent running back used his "quick-footed Cha Cha" and stylish golden blazer to win over judges, putting him into DWTS frontrunner status.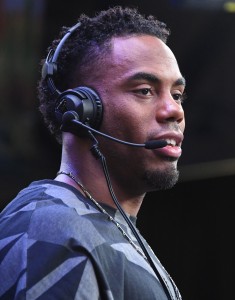 His performance netted him four "sparkle points" out of five from USA Today, but the rest of the league isn't going wild over his newfound hobby. Word is that the free agent running back is being blackballed for participating in the show, longtime NFL reporter Howard Balzer tweets.
Jennings is the latest in a long line of NFL players to take a shot at ballroom dancing on network television. Calvin Johnson, Antonio Brown, Chad Johnson, Hines Ward, Warren Sapp, Kurt Warner, Lawrence Taylor, Emmitt Smith, Donald Driver, Jason Taylor, Michael Irvin, Jerry Rice, and Von Miller have all strutted their stuff, with varying degrees of success. Most of those players did the show after retiring and only one, Miller, went on DWTS during a critical time for contract negotiations.
No one questioned Miller's commitment to football during his reality show stint, but that might be because Miller was in his prime and one of the league's very best defensive players. Jennings, on the other hand, is a soon-to-be 32-year-old coming off of an injury-riddled season. Teams probably expected that Jennings would be spending the offseason working out and meeting with interested teams. Instead, teams might be left with the impression that he is trying to follow the path of ex-Giant Michael Strahan. As a charismatic and good looking guy, Jennings could be zeroed in on a broadcasting career and that could detract from his commitment to football.
I have Jennings ranked as the fourth-best running back left in free agency.
Photo courtesy of USA Today Sports Images.