Rashad Jennings has proven that he can dance. Now, he wants to prove that he can still play football at a high level. The free agent running back says that he is anxious to play in 2017 and eager for an NFL opportunity.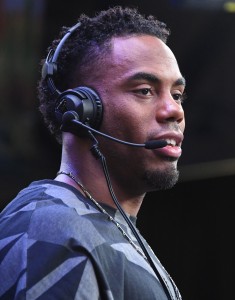 "I know there is a place for me in the league based on my skill set. I want to prove one GM right this year," Jennings told SiriusXM (Twitter links).
Jennings added that he has had "simple conversations" with the Lions, Packers, Ravens, Rams, and Dolphins. The veteran hopes that those simple conversations will lead to a deal from one of those teams, but for now, he's in "wait and see" mode.
The reigning Dancing With The Stars champion had a paltry 3.3 yards per carry average last year on 181 rushes, but did record 35 receptions. On the plus side, Pro Football Focus graded him as one of the NFL's best pass blockers in 2016 and he isn't too far removed from a productive 2015 season in New York.
Photo courtesy of USA Today Sports Images.